Deborah K. Holmes is the Americas Director of Corporate Social Responsibility (CSR) at Ernst and Young (EY). She built the company's CSR efforts from the ground up during a time when CSR was only in its nascent phase. Today EY is a leading example of how CSR can be integrated into corporate life.
Can you please describe your professional journey and how you ended up where you are today?
I originally wanted to be a journalist but I'm too risk-averse. I didn't get a newspaper job so I went to law school because that was a safer thing to do. When I was in law school I became fascinated by the structural mismatch between the trajectory of careers at law firms and women's biological clocks. Specifically that your child-bearing years are also the years during which you're working 80 hours a week in the hopes of making partner. I was also interested in the idea that a profession, which had so many unhappy practitioners and knew it, wasn't rearranging itself to improve the situation.
I wrote my third year law school paper on the structural causes of dissatisfaction among large firm attorneys and then I went to work for a large firm and I was dissatisfied. I left after a year to work for a non-profit called The Families and Work Institute. My job there was to advise large companies which were interested in precisely the challenge I was studying around how employers can eliminate barriers to people combining meaningful work with a robust personal life.
How did you come to lead Ernst and Young's Corporate Social Responsibility (CSR) efforts?
I worked for a couple of non-profits centered on the work/life issue and one of my clients with a particular focus on gender equity was Ernst and Young. Ernst and Young's Chairman of the Diversity Taskforce was the firm Chairman. After my team submitted the final report, the Chairman called me and offered me a job implementing the recommendations in the report. That was an offer too good to be true. I joined Ernst and Young with a five-year commitment and that was in 1996. I created the firm's gender equity function and strategy. After seven years, I found myself restless. I wanted to address more challenges than just the challenges of relatively successful women in relatively excellent employment conditions. I worked to create the firm's corporate responsibility function, which I'm still leading today.
It seems that the majority CSR initiatives at Ernst and Young focus on employee engagement and volunteerism. Are there other initiatives in which the company is investing in social good or aligning business interests with sustainability?
Our strategy rests on two pillars: one is identifying a limited number of topics that are aligned with our strategy where we can expect to have a measurable impact. We focus on the "3Es": education, entrepreneurship and equity in the workplace. Our other strategy is engaging our people and delivering their skills in support of the 3Es.
We are not publicly traded and don't have the financial assets that other corporations have. So our major asset is our talent base.
In addition, we publish papers and speak at conferences.We published a white paper together with the National Mentoring Partnership focused on best practices for private sector youth mentoring. We work with other non-profits, companies and government agencies focused on the 3Es but philanthropy is not the cornerstone of our strategy.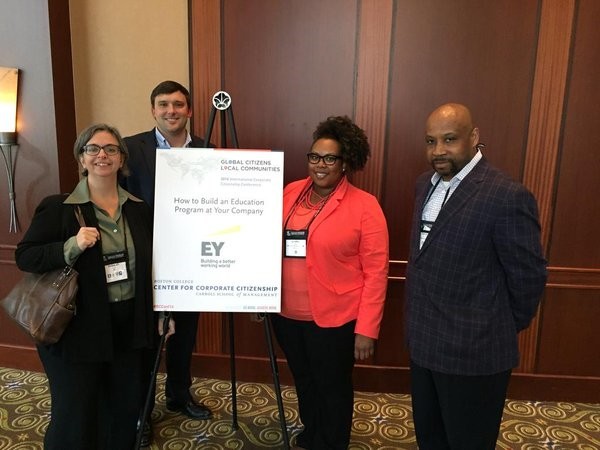 What are your short-term and long-term goals?
We have a whole suite of EY Corporate Social Responsibility sabbaticals (full-time immersion programs) and there are a lot of milestones coming up:
(1) It is currently graduation season in College MAP (Mentoring for Access and Persistence), which is our signature program focused on education. Cohorts of EY professionals mentor cohorts of underserved students in urban schools in thirty cities across the U.S. to help them achieve the dream of college. We have more than twenty cities where high school seniors are graduating this month.
(2) We have participants in our EY Earthwatch Ambassador Program returning from Mexico and Brazil where they spent a week in teams of 10 providing business advice to local entrepreneurs and conducting climate research.
(3) We're preparing to train participants in our EY Vantage Program through which mid-career EY professionals go to Brazil, Mexico, Argentina, Chile, Colombia and Peru to spend six weeks embedded on an individual basis with an entrepreneur providing business advice.
Long-term, EY's purpose is building a better working world. My team is all about creating the strategy, programs and mindset for EY professionals to build a better working world in their communities.
You built the CSR initiative at EY from the ground up and now the company is at the forefront of this work. Given your perspective, what trends have you seen and where is CSR moving in the future?
Everybody in a leadership position at most companies these days understands and truly believes that millennials are laser focused on making a difference. Given a choice, they will choose, and stay with and be loyal to the employer who gives them the opportunity to make a difference. That commitment by millennials and corporate leadership's understanding of that commitment is creating a sea change in how companies think of their purpose. I'm very optimistic that we're on the brink of an era of much greater engagement by the private sector in solving the world's most challenging problems.
Who inspires you?
My parents were both social scientists. They created and ran their own small nonprofit that conducted impact evaluations of social programs. I learned from them about the imperative of dedicating my life to trying to make a difference combined with a rigorous evidence-based approach to change.
What life experience has had the greatest impact on you?
Probably having kids. Having children teaches you that control is an illusion and what counts is your ability to surf the surprises.
What are you struggling with these days?
College persistence is a tough nut to crack. In our College MAP program we're graduating students from high school at rates above 95%. Almost all of those are matriculating in college. But college persistence, which means staying in college to graduate, is even tougher. It's not just our program – it's nationwide. Only 9% of students in the lowest economic quartile in this country graduate with a four-year degree. The key factors are cost, lack of academic preparation and a feeling of not belonging and not being worthy. They don't have support systems around them so they drop out. The persistence phase of our College MAP program focuses on these issues. Mentoring continues, we have monthly webinars, we get them together when they're home for the holidays, we give them stipends, and we are hoping to give them scholarship support.