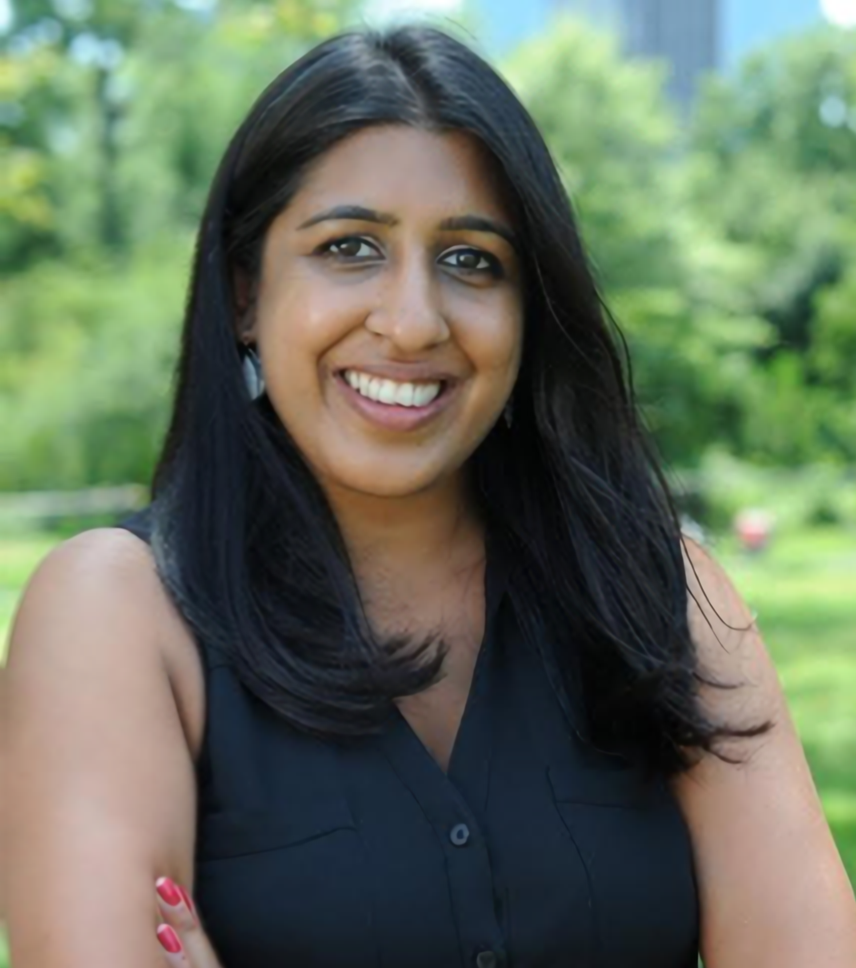 Dr. Aparna (Amy) Divaraniya has a PhD in genetics and genomics from the Icahn School of Medicine at Mount Sinai. Her work focused on using molecular network models to mine large-scale data for disease discovery purposes. She is the Co-Founder and CEO of OOVA, a hormone measurement tool used to help women understand their fertility on a deeper and more comprehensive level. OOVA will undoubtedly transform the fertility space and enable women to get detailed information about their bodies and their cycles in a non-invasive way, thereby facilitating their ability to take control of their reproductive health.
How did you come up with the idea for OOVA?
I have a strong background in Biology. I was a researcher and then pursued a PhD at Mount Sinai in Biological Sciences. I was mentored by some of the greatest minds in the field. Toward the end of my PhD, my husband and I started trying for a baby. I predicted it would be hard to conceive because my cycle was never regular. We made the decision that if I couldn't get pregnant naturally, we wouldn't have children. We did not want to go the invasive route and do IVF. For 18 months, I took my temperature every day, I downloaded every app, but I was no smarter 18 months later than I was on day 1. Eventually, I got pregnant but the road to getting there was extremely difficult.
I started with the concept for OOVA, but it was hard translating the idea into a product. The root piece of information you need in order to get pregnant is hormone data. We wanted to quantitatively provide hormone measurements to women in a non-invasive way.
Tell me more about OOVA and how it works.
The test strip is similar to a pregnancy test where a woman would provide a urine sample directly to it. She would then use the OOVA app on her phone to scan the test strip and get real-time fertility hormone measurements along with personalized action items.
What stage is OOVA at and when will the product be released to the public?
We already have a prototype built and we did a beta test over the summer. We are in the process of closing our fundraising round. The proceeds will go into the R&D for detecting progesterone in the urine sample. In 6 months OOVA will be released to the public.
What's your competitive advantage?
We're a 100% personalized test. Your data is not compared to a woman with a regular cycle. We're comparing data to each woman's individualized baseline. OOVA is not an ovulation test. It's a quantitative fertility assessment. The app will provide recommendations and action plans based on the data gathered.
What are your short-term and long-term goals?
Short-term goals: Get this initial product out and impact the fertility space.
Long-term goals: Create a personalized diagnostic tool for women's healthcare including the ability to detect menopause early and any other issues. Supplemented with IVF, OOVA can eliminate the need for a woman to go in to a lab every day for a blood draw.
Why are you uniquely positioned to tackle the fertility space?
I've personally dealt with issues conceiving. Having that personal drive is the most powerful force for a startup. I bring the biology and science know-how and my partner brings the technology skills. He turns my ideas into something I can hold in my hand.
What book made the greatest impression on you?
The Startup Owner's Manual. The main concept in the book is "Get out of the Building" (also known as "GOOB"). Founders like to stay safe behind their computers. This book pushes founders to get out of the building, get feedback sooner rather than later and make it more of a dynamic process.
What keeps you up at night?
We're about to start a new chapter. It's exciting and we've been eager to get it out in the market. Women want it and OOVA will transform women's healthcare, but it's also a lot of pressure. I want to make sure we deliver a quality product. I don't want it to come across as gimmicky or tapping the surface. I want to actually solve the problem.